Transparent Connect™ allows you to achieve your language goals through a unique blend of technology and human instruction that lets each component do what it does best, so you get the best results.
Transparent Connect is available for two different options: Tutoring and Capstone. You can find more information about our different offerings at: https://www.transparent.com/personal/connect/
Transparent Connect Tutoring
The cost for the Transparent Connect Tutoring depends on the amount of sessions you choose. The two sessions package cost is $79, while the 8 session package costs $299.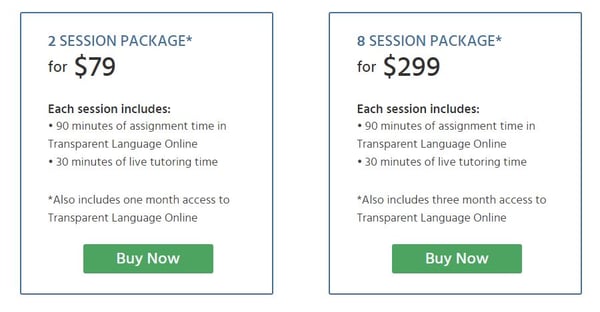 Transparent Connect Capstone
Transparent Connect Capstone combines expert, live instruction with highly-tailored, tech-delivered lessons to meet the needs of working professionals to quickly and reliably acquire a combination of general language proficiency and language for their special purposes. The Transparent Connect Capstone costs $1,899 for the 12-week course.