Activity and Feature Usage
Reviewing a completed lesson
Completed lessons that appeared on your Learning Path will be removed from your Learning Path once completed. Reviewing a completed lesson can be done from the Browse tab.
These steps will walk you through the process of reviewing a completed lesson in Transparent Language Online:
1. Log in to Transparent Language Online and click "Browse".
2. Scroll down and find the category the lesson is in that you want to review. Click the name of the category.
3. Within the category, find the course and/or unit you want to review.
4. Next to the lesson name, you will see a "REVIEW" button. Click the "REVIEW" button to review the content in the completed lesson.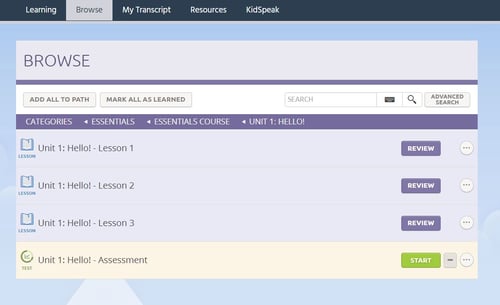 https://www.iorad.com/player/1711955/How-to-review-a-completed-lesson-