Transparent Language Online includes contextualized help documentation on every screen of the program, as well as help overlays with each activity.
Accessing help documentation in Transparent Language Online
If you have a question, such as how to type special characters or how to use a particular feature, check whether our extensive, in-product help documentation has the answer.

In Transparent Language Online, the online help is available from a ? button in the upper right-hand corner of the screen in your web browser.

If you are using Transparent Language Online through the mobile app, help can be found by clicking "Menu" option and then clicking "Help" to expand the list of available help options.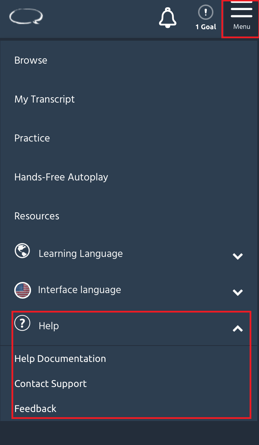 Help overlays
When you are using a learning activity, you may also notice help overlays. The help overlays are the brief explanations that appear when you start an activity, pointing out useful features and giving simple explanations. You can click anywhere on the screen to dismiss an overlay and continue with the activity.