Creating a class in the CL-150
Instructors can create a class to organize, communicate with, and run reports on their students.
To get started, click on the "Manage Classes" panel on the CL-150 Resources page.
On the Instructor Portal dashboard, click "Create".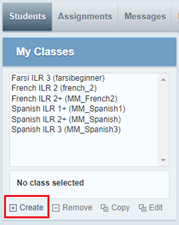 You can learn more about how to create and manage a class in this overview video.
For more help, visit the CL-150 Training Kit, where you can explore self-guided training materials and request a live orientation session for your group.